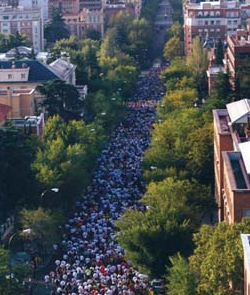 On Sunday 17 October, 7,200 runners met to compete in the 30th International Science Mini-Marathon. The event was organised by the CSIC and its sponsors included the Fundación General CSIC. The competitors took off from the starting line at 9.00 a.m., running down the Calle Serrano and returning to their starting point after completing a 10 kilometre circuit along the streets around the Santiago Bernabéu stadium in central Madrid.
According to the organisers, this year's race beat the previous record for turnout, confirming the run's place among urban mini-marathons. African runners did particularly well this year, taking first place in both the male and female categories.
The Kenyan runner Hillary Kipkogei Yego took first prize in the men's category, with a time of 29.32 minutes, while fellow Kenyan Winnie Jepkemoi was to first woman over the finishing line, with a time of 33.12 minutes.
The first Spaniards to complete the 10 kilometre race in each category were Ricardo Serrano, who came sixth, with a time of 30.04 minutes; and Cristina Jordán, second in the women's category with a time of 34.08 minutes.
Jaime Lissavetzky, Secretary of State for Sports, handed over the trophies to the winners. Javier Rey, Director of the Fundación General CSIC, gave out the prizes for the first, second and third place in the junior female category.