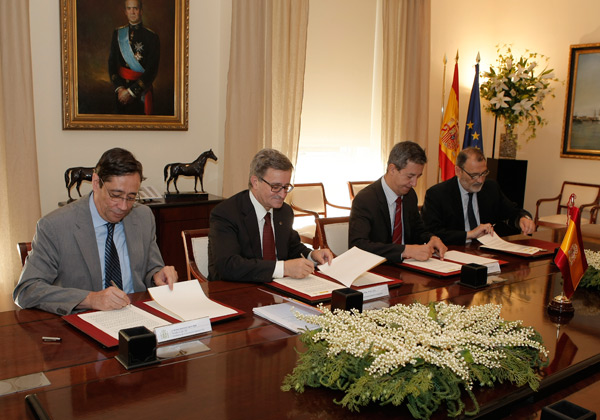 Madrid, 27 July 2010. The Secretaries of State for Defence, Constantino Méndez, and Research, Felipe Pétriz, together with the director of the national aerospace technology institute, INTA (Instituto Nacional de Técnica Aeroespacial), and the president of the Fundación General CSIC (FGCSIC), Rafael Rodrigo, have signed a cooperation agreement on the preparation of the INTA's strategic plans for the period 2011-2014. Under the agreement the Fundación General CSIC will be responsible for coordinating and implementing the strategic planning process.
The INTA, a public research organisation under the aegis of the Ministry of Defence, has a complex structure employing over 1,300 people. It therefore requires a strategic plan that enables it to be profitable while meeting innovation and technology development needs in the aerospace field. With this initiative the INTA joins the growing trend towards strategic planning among organisations in academia and the science and technology system, a practice that is already widespread in the business world.
Using the input from a detailed study, the Fundación General CSISC is tailoring its strategic planning model to the needs of this public research organisation, and will coordinate its implementation across all the INTA's functional units. The FGCSIC's comprehensive strategic planning system for R&D offers a standard strategic plan format for each of the INTA's units, with activity and progress indicators. It includes a web 2.0 application tailored to each unit's information gathering requirements, coordination of the external evaluation process, a web 2.0 system designed for the evaluation process, and a report generating system.
The INTA's strategic plans will undergo external evaluation by a team of international experts working alongside national evaluators who will provide the local input on features that do not have clear international equivalents. The evaluation process is being supported by the Spanish national evaluation agency, ANEP (Agencia Nacional de Evaluación y Prospectiva), the unit of the Secretariat of State for Research responsible for scientific/technical evaluation of activities under the National RTD Plan, and other science and technology policy measures.
This new addition to the Fundación General CSIC's list of planning exercises confirms its position as an innovative and pioneering organisation in the field of the strategic planning of research and technology development.